Message from Dean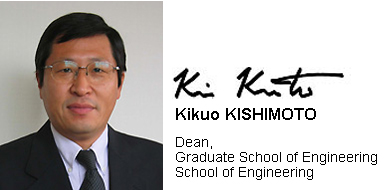 Tokyo Institute of Technology began in 1881, as the Tokyo Vocational School with 2 departments: applied chemistry and machinery. From these roots of 130 years ago, it has grown into the top science and engineering university in Japan; presently consisting of three undergraduate schools with 23 departments and six graduate schools containing 45 departments. We in the school of engineering have 16 departments and in the graduate school of science and engineering (engineering school) there are15 majors, making the engineering school one of the largest organization in the university.
Undergraduate engineering education lays the foundation from which graduate school based advanced engineering education can begin. In addition, by incorporating domestic and international trends in science and technology, creativity based education employing new engineering pedagogical methods has been established in order that meets the needs of an international society.
The Graduate School of Science and Engineering (engineering school), covers almost all areas of engineering systemically based upon fundamental engineering science that aims to foster the creation of new disciplines and creative learning. Graduate education on the other hand is research-driven for the purpose of professional education that consists of various degree programs, such as MS, Doctor of Engineering/Ph.D., integrated master/doctoral program, working adult doctoral program and International graduate program with courses taught in English that meet a diverse group of needs. Furthermore, based upon our initiative in 2007, a league of engineering faculties in Asia and Oceania called AOTULE (Asia-Oceania Top University League on Engineering) was established for joint international activities.
In order to leverage the strengths of "Tokyo Tech", we will continue to contribute to the development of society and strive to bring engineering education and research to the highest level in the world.