C2: AOTULE Outbound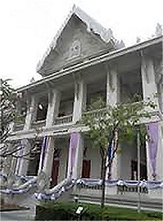 There are three outbound programs run under
the AOTULE scheme as follows.
1) AOTULE Graduate Research Exchange Program
Number of Dispatch Students
About 2 students per year per host institution
Only those students with GPA 2.3 and above of previous year are eligible.
Tuition Waiver
Tuition waiver at partner universities
Dispatch Period
2 to 3 months
* 2 months or more is recommended.
Host Institutions
University of Melbourne
Tsinghua University
National Taiwan University
Hong Kong University of Science and Technology
Bandung Institute of Technology
Korea Advanced Institute of Science and Technology (KAIST)
Malaya University
Nanyang Technological University
Chulalongkorn University
Indian Institute of Technology Madras
Hanoi University of Science and Technology
Notes
- Applicants must take into account the fact that some universities require completion of an application about 3 months prior to the enrollment.

- Applicants must consult with the coordinator of the International Cooperation Office prior to the application submission. Applicants must not contact host institution faculty until the coordinator gives further notice.
---
2) AOTULE Summer Schools
Bandung Institute of Technology (Indonesia) offers a summer program for AOTULE partner universities. Tokyo Tech's Graduate and undergraduate students are eligible for this summer program. See the AOTULE Exchange homepage

for further information.
3) AOTULE Student Conference
Every year, AOTULE partner universities take turns to host the Deans/Admin staff meeting and student conference every fall. About 20 Tokyo Tech Graduate Students are selected to attend the Student Conference based upon their presentation at the Tokyo Tech student workshop MISW

.